Who are we
We are thrilled that you are interested in our product! Please allow us to introduce ourselves. The Hangloose Baby was developed by five fathers from Scheveningen. Starting from the idea to share knowledge and expertise, together Dick, Daniël, Thomas, Lars and Rick developed the concept of a suspended playpen blanket. With a substantial network in the baby and children's sector, the team appeared to have the perfect balance of creativity, management, product knowledge, marketing and sales. It is our ambition to make Hangloose Baby a globally renowned brand in the baby lifestyle sector with an extensive selection.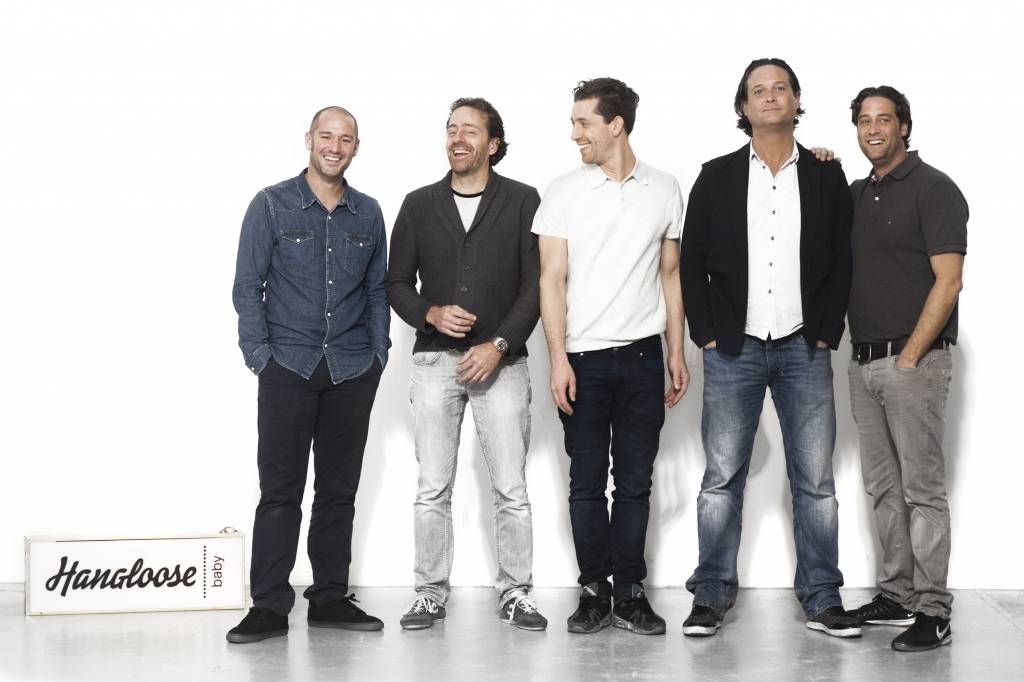 What inspired us?
It all started in auntie Truus' pantry. When Dick became a father, he was given the first version of the Hangloose Baby by his auntie as a present for the baby; it was made from jersey, with rings and chords to attach it to the playpen. The application appeared to be a great success and the responses were promising. Even the maternity nurse had never seen such a great solution in her twenty years of professional experience. She no longer had to bend down to lay the baby down or pick it up and the baby was in a straight position. "Huub gave me the feeling that he felt very comfortable lying in the blanket," said Dick. "He was a real crybaby and it struck me that he stopped crying the very moment I put him in there. I got a lot of positive responses and just knew I had to do something with the idea."
His neighbour, Daniël , came to visit the newborn and couldn't let go of the idea of the suspended playpen blanket: "I started sketching and designing and came up with the name Hangloose Baby."
The term "hang loose" is used by surfers worldwide as a greeting, indicating that things are relaxed.
Similarly, the baby can relax in the blanket: safely and free.
Designed by daddies, loved by babies